I got fabric in the mail today from
Lesley
to make blocks for March for the modern tradition bee. We are making variations of Granny's Flower Garden, be sure to check hers out they are awesome. But the hubs is sick and I really haven't slept for what is now going on hour thirty something and I don't want to mess them up so I am coloring instead. I have a few variations floating in my head and I am waiting for them to peculate, but I'm a little slow today.
April is my month for the modern tradition bee and this weekend I spent a little bit of time looking at blocks. As soon as I saw this one I was hooked with one of those I need to do something like this moments.
Typically I'm not drawn to something this traditional but in this case I even love the fabrics they used. What I'm not so keen on are those triangles there in the corners. I love that they filled up that space with the dark fabric but after working with some very frustrating triangles this weekend I thought you know turning that into two 1/2 square triangles and a solid square would really make a whole lot more sense to me. I looked at some other variations of this block just to be sure I really liked it and well while they didn't reach out and grab me like this one I still found them very appealing.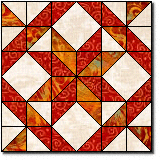 But I really think I like the corners on the other one better just made using a different method. The original is also for a twenty four inch block which is huge so I am doing some math and trying to resize it to around 12.5 inches. So I am coloring and trying to work out the details in my head.
I even know what fabric I am going to use. For my birthday back in October I bought a fat quarter bundle of this
line
. And since
Camille
(don't you love her style) is coming out with a new line at market in May I have to use this one so I have a reason to replace it. I think that is how it works, right?